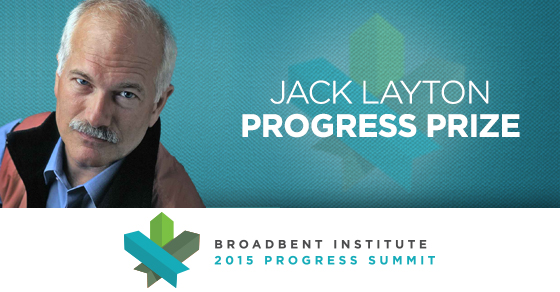 The late Jack Layton served as leader of the New Democratic Party of Canada from 2003 to 2011, when he became the Leader of the Official Opposition.
During his long career in public service, Layton was fond of a great campaign. Whether working with local environmentalists to erect a windmill on the Lake Ontario shore, co-founding the White Ribbon campaign for gender justice, shining a light on the scourge of homelessness, or running in multiple political campaigns at the municipal and federal levels, Layton loved nothing more than the creation of empowering efforts to rally people around a common cause.
In his honour, and in partnership with Olivia Chow, the Jack Layton Progress Prize is awarded annually to an individual or organization who has run a particularly noteworthy political or issue campaign reflecting the ideals exemplified by Layton, including justice, sustainability and democracy
Qualifications of Nominees
Nominees can be either an individual or an organization and should demonstrate:
Commitment to the progressive/social democratic movement
Primary responsibility for executing the campaign in question over the previous year
Vision, engagement, imagination, and effectiveness as an individual or organizational leader
Nomination Process
To nominate a candidate, please submit their name and address, reasons for the nomination, and a biography, along with a seconder to the nomination, to awards@broadbentinstitute.ca
Nominations for 2015 Closed
The recipient of the inaugural Jack Layton Progress Prize will be announced at the Broadbent Institute's Progress Summit, March 26 to 28, 2015.
Source: The Broadbent Institute